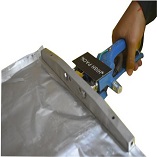 Sealer Machine
The Sealer machine is specially designed for sealing of  Aluminium Barrier foil. It is highly precised handy machine and heavy duty equipment.
With the help of this Sealer machine work can be easily carried out quickly by achieving the higher productivity i.e. the the quality of sealing and a good lining impressions on material as a feedback of good sealing etc.
This High Pack Sealer machine 
has all metal body with temperature controller and comes with the thick highly insulated copper 
wire as for safety purpose.